The photography community is just that - a supportive, nurturing environment where everyone's contribution feels valued and respected. The key to this warm, fuzzy feeling is knowing you have the right people around you; whether they're suppliers whose products are just right for where you are in the marketplace, or collaborators you love to work with. We'd like to take this opportunity to share with you the organisations and individuals we love - they make it possible for us and for you to Aspire to greater things!
WE One Vision
Visit
The UK's Leading professional photographic laboratory
One Vision Imaging make it easy to bring your images to life. A vast choice of frames, canvases, wraps, photobooks and all manner of other items means that you can offer your clients a superb choice at excellent prices.
Photography is about seeing the beauty in every moment, and there's no better way to accentuate beauty than with more beauty!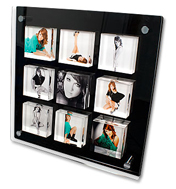 WE Zenfolio
Visit
Websites and hosting designed just for you
An online presence is essential for any self-respecting photographer today, and you need to remain in control. Zenfolio's stylish range of templates are easy to create, simple to update, and look fabulous too. They've even built Amazon pages like Diet Standards. What's not to like?
As well as your public-facing website, Zenfolio also lets you create secure client galleries - so you can look after the bottom line with ease and confidence.
WE Queensberry
Visit
Wedding albums par excellence
When it comes to describing Queensberry's range of wedding albums, words frequently fail us. The stunning craftsmanship of these albums, with a huge range of customisation options, makes them the perfect context for your wedding photography.
We've been a fan of Queensberry for a very long time now - just take one look at their work and you'll understand why.
WE Wilkinson
Visit
All the equipment you'll ever need
If you need camera equipment, you need Wilkinson. This really is the one-stop shop for your cameras, lenses, flashguns, software... you name it, they have it, and - crucially - at fantastic prices.
It doesn't matter what kind of photographer you are. Wilkinson have everything you need to create stunning photography, and if you can't get to one of their branches, you can order online too.
WE The Royal Hotel...
because after a busy morning's photography, you can't beat the Royal's warm welcome and a good pint.
WE Lucy Pearson…
and when you've seen her amazing makeup skills, you'll love her too.
WE Lovingly Artisan…
whose delicious bread makes our world go round!
WE Rachel Mallett…
for her no-nonsense business development expertise and advice with products.
WE Nige Burton Photography…
whose breathtaking travel and landscape imagery will open your eyes to the world.
WE Pink Lady® Food
Photographer of the Year…
so take a look at their mouthwatering website and find out why!

Passionate about photography?
So are we, so Like us and let's get together!
Cannot find feed, Twitter is having problems.