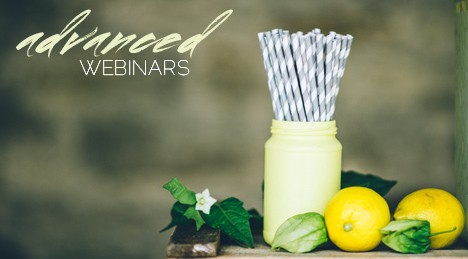 Dates for your diary
This course is running on...
3rd June 2015
1 hour online workshop 6pm-7pm
£295 + vat for the full series
with Catherine Connor
10th June 2015
1 hour online workshop 6pm-7pm
£295 + vat for the full series
with Catherine Connor
17th June 2015
1 hour online workshop 6pm-7pm
£295 + vat for the full series
with Catherine Connor
24th June 2015
1 hour online workshop 6pm-7pm
£295 + vat for the full series
with Catherine Connor


Business & Marketing


Advanced Webinars - Series One
This course will teach you...
The secrets of getting to the top of your game
Ways to define and implement your vision
How to lead your business confidently
The importance of a strong and confident sales technique
How to place customer service at the heart of your business
Ways to make sense of the financial side of things
Effective strategies for planning ahead
Proficiency Level: 2 (on a scale of 1-4)
Online photography workshop snapshot
Our Advanced Webinar series is designed for business leaders who aspire to greater things, and who aren't afraid of facing challenges along the way. If you crave growth for your business, and have a passion for success, this is the perfect programme for you, offering intensive training that will focus your thoughts and strengthen your resolve. After all, running a business is a serious sport!
Each 60-minute session of the Advanced Webinars series will help you maximise your potential and reach new heights of achievement within a maturing business. Aspire figurehead Catherine Connor is going to take you and your business through your paces, introducing new skills and techniques that will change the way you approach your work, leading not just to business development, but complete reinvention. If you want to make positive change and really up your game, you'll find plenty of inspiration here!
The webinars will challenge your development as a business leader and make sure you perform to the very best of your ability. Each session will hit the core of your business, shaping its direction as well as developing everyone working at the coalface. Both you and your team will learn a vast amount, in a no-nonsense, jargon-free learning environment.
As with all our online training workshops, the Advanced Webinars are experienced online - you can learn in the comfort of your own home or studio. Sessions are recorded and can be accessed as many times as you want, so you can be sure of getting the most out of this comprehensive learning tool.
During each online training workshop, Aspire will decode the four core areas that separate a mediocre business from a market leader. Pro-active growth is the order of the day here, with practical assignments keeping you on track as you implement new strategies and take your business to the next level. You'll discover a wealth of engaging and interactive content that enhances your performance as well as your fundamental understanding of business.
As a participant in the Advanced Webinars, you'll also have the opportunity to discuss your progress as your confidence builds. Far more than a training course, this is a business community of leaders, all willing to push through the challenges and frustrations of business life to create a more prosperous and successful future.
The Series One modules are as follows:
Strengthen the Vision and Value of the Business - a chance to reconsider exactly what you want your business to achieve. You've got to know where you're heading, in order to plot the route!
Customer Engagement - a workshop covering the ways to effectively connect with the people you serve. Keep your clients interested and they'll stay loyal!
How to Market Your Business - smart guidance on how you can reach out to the right clients. You'll learn pro-active strategies that will stop your business from losing momentum.
Structuring Your Business Menu - pricing it right is so important. In this module you'll discover powerful ways to establish a pricing structure that brings maximum profit and growth.
KIND WORDS "Last year's webinars were hugely inspirational for my journey with my business. I am now armed with a huge font of knowledge picked up during Aspire's webinars. They have been invaluable and to be part of the wonderful Aspire community on Facebook certainly keeps me mindful of what is yet to be achieved this year" Kat 2015