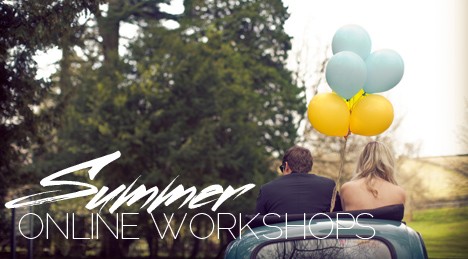 Dates for your diary
This course is running on...
2nd July 2014
1 hour online workshop
£70 + vat for the entire online workshop series
with Catherine Connor and Jen Heyworth
9th July 2014
1 hour online workshop
£70 + vat for the entire online workshop series
with Catherine Connor and Jen Heyworth
16th July 2014
1 hour online workshop
£70 + vat for the entire online workshop series
with Catherine Connor and Jen Heyworth
23rd July 2014
1 hour online workshop
£70 + vat for the entire online workshop series
with Catherine Connor and Jen Heyworth


Marketing Your Business To Stay Ahead


Summer School Online Workshops
This course will teach you...
Ways to actually enjoy marketing your business
How to maintain your momentum throughout the summer
Smart ways to capitalise on your time
Unexpected marketing avenues
Best practice when it comes to blogging
How to identify, and reach, your perfect market
Techniques to keep yourself focused and on track
The importance of careful forward planning
Proficiency Level: 2 (on a scale of 1-4)
Online photography workshop series snapshot
The Summer School series of online photography workshops is designed to give you confidence and inspiration to market your business through the coming months. These interactive sessions are focused on the very core of what you do, helping you to get yourself and your business in shape. If you're determined to maintain your pace and momentum through the traditionally relaxed summer months, this is the course for you - because you'll have homework to keep you busy!
Everything here has been created with the progression and growth of your business in mind: Catherine Connor and Jen Heyworth will share their wealth of business acumen to keep you motivated and hungry for success as you market your business, attract the right clients, and get the very best from your sales and sales experiences.
On the day of each Summer School online workshop, you'll be sent a unique email with instructions on how to access the session in the evening.
Wednesday 2nd July, 6pm-7pm: The art of attracting the right clients
Marketing your business often involves grasping the nettles - going out of your comfort zone and doing things you're not normally comfortable with. Catherine and Jen will put the fun back into marketing, providing you with a wealth of new knowledge and useful practical tips on marketing your business more successfully, and enjoying the process too. You'll discover ways to create a magnetic business that can stand taller against its competitors and reach out to the right people.
Wednesday 9th July, 6pm-7pm: Blog like Jane Austen and get more out of the time you dedicate to blogging
Becoming the editor and storyteller in your business is an essential part of creating and maintaining a following of loyal fans - that is to say, customers! This online training session will make your blogging style more engaging and ensure that your blogging work gets the best results without taking up more time than you have available. You'll hear new ideas for content, learn new approaches for broadening your appeal, and gather all kinds of new inspiration to help you create a blog that really shouts about your brand.
Wednesday 16th July, 6pm-7pm: Take your business to the marketplace
Choosing which events to market your business at can be difficult. Your time and money are both precious, so this session will help you to identify the right events for you, from wedding fairs to food festivals and beyond. You'll be surprised at the diverse types of events which can prove successful, and Catherine will show you that with the right approach, you can turn every situation and every event into a profitable, worthwhile opportunity.
Wednesday 23rd July, 6pm-7pm: Business housekeeping and your one-page plan
Your business is bombarded with all kinds of choices every day, so make sure you're making the right ones! The final part of our Summer School online workshops equips you with key skills to keep you on track and true to your original vision - your one-page plan. You'll learn how to draw the map for your business, and plot your route across it without leaving anything to chance along the way. A huge number of do's and don'ts are covered here, and you'll leave full of fresh energy and a burning desire to achieve truly great things!
Overview: the Aspire online workshops
Aspire's four-week Summer School online workshops provide the ideal environment in which to develop your business, address the challenges you face, and share information with like-minded photographers. These online training sessions aren't just "how to" videos; they're part of a structured programme of learning, that will give you the confidence and knowledge to build the type and style of business that you want to own.
As a member of our online workshops, you'll be invited to a private Facebook group where the aim is for you and the other members to exchange, enlighten and inspire each other. Share experiences, discuss the issues you've faced, and brainstorm new ideas.
You'll be given homework each week - this will be designed to improve the performance of your budding business, and will act as a guiding beacon to effectively direct your progress. Then, during each live session, you'll be given the chance to share the issues you've faced and to get great advice in a supportive, helpful environment.
Taking part in our online photography training workshops is a pro-active way to learn, develop and enhance both yourself as an individual, and your business too. The sessions are created and presented by Aspire figurehead Catherine Connor, whose reputation as an educator and motivator speaks for itself. This series of training sessions will far exceed your expectations - each module will engage your attention and encourage you to achieve everything you're aiming for.
But don't just take our word for it - this is how previous delegates described the experience...
"After last night's webinar looks like I'm going to be very busy" - Kat Regan
"OMG Catherine, what have you done to me? While doing my homework tonight looking up businesses / local papers to touch base with, I decided it would be a good idea to get in quickly with a special complimentary shoot for them to give away for valentines day! All this dynamism has quite taken it out of me. Off for a glass of Merlot" - Jo Smith
"It's great to be a part of this group" - Pamela Jary
"There is a genuine atmosphere created which makes it clear that the Aspire team really want people to succeed - you are all so passionate about what you do and you all add a great deal of value to every single interaction" - Jennifer